Fall Adult Coloring Books
|
Fall Adult Coloring Books
September has just begun and Fall is in the air! What better way to celebrate my favorite season than by relaxing with some Fall coloring books! If you are new to adult coloring be sure to check out my article about Choosing a Coloring Book.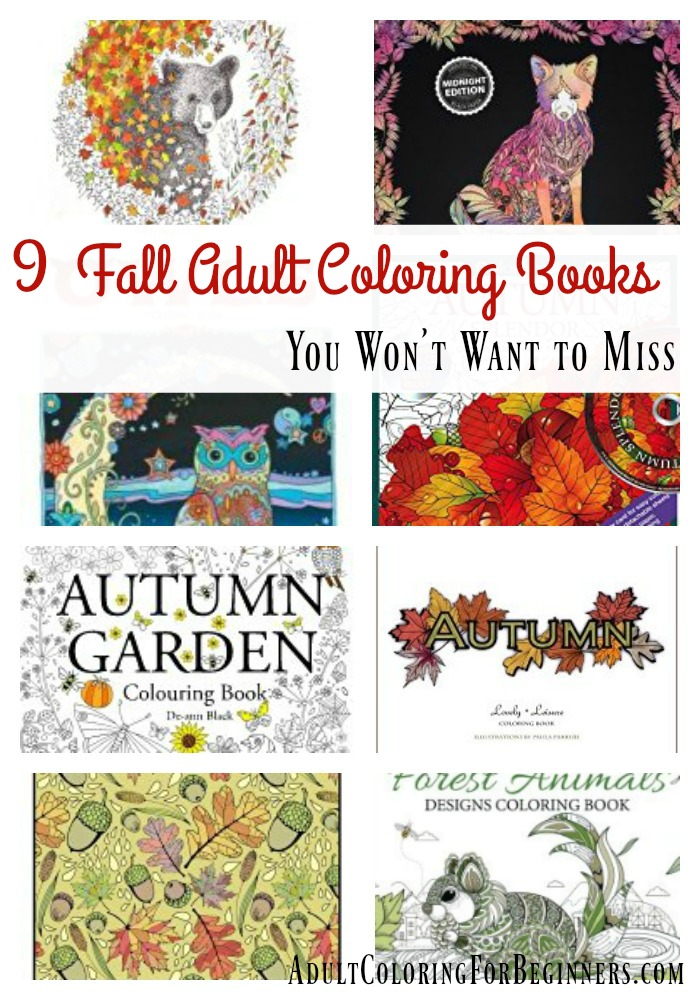 I'm picturing myself finding a great scenic place, preferably down in Southern Illinois  where my mom lives and coloring the fall away! My mother loves to color and we have a blast when we get together. You can pretty much turn any book into a fall themed coloring page by choosing some awesome fall colors!
If you want to go for it and get festive with the season you can actually get a fall adult coloring book and use the beautiful fall colors and make yourself a fall picture good enough to frame! Finding fall adult coloring books can be tricky sometimes so I hopped over to amazon and put together a list for you so you can spend your time coloring instead of hunting for a book.
"This beautiful new coloring book celebrating the vibrant beauty and brilliance of autumn/fall will captivate adult and children alike. Delicate and intricate illustrations are interleaved with simpler designs for the beginner or younger reader. Readers will meet foraging harvest mice, dozy hedgehogs, squirrels, hares in fields of poppies, pheasants, leaves and mushrooms, and geese migrating against the golden harvest moon.
This art therapy book will help you relax whilst finding out facts you never knew, along with conservation and recipe links. Animal and nature lovers, fans of Lucinda's work, and newcomers alike will delight in this creative coloring book."
**There are no reviews on Amazon in the states but in the UK it has a 5 start ranking.

Leafy Animals Midnight Edition by James Alexander
"Introducing the world's first animal coloring book printed on black paper. You've never experienced anything like this before. This beautiful adult coloring book features 55 intricate animals, sea creatures, reptiles, and insects made out of leaves. Using this exclusive midnight edition will make your designs vibrant with color."

Autumn: Lovely Leisure Coloring Book by Paula Parrish
"This book is for everyone who loves Autumn!
Leaves, flowers, pumpkins – this volume showcases all the beauty and bounty of the season.

A great companion to the Lovely • Leisure Fall Leaves coloring book

The graceful shapes are given dimension by using Lovely Leisure's distinctive shadowing effect, enhancing your final colored design.

Fun to color and embellish – use your imagination beyond the typical red, orange and yellow to create your own Autumn palette!

The graceful shapes are given dimension by using Lovely Leisure's distinctive shadowing effect, enhancing your final colored design.

Enjoy coloring and displaying these designs throughout the season. Your finished holiday messages (Halloween, Thanksgiving) and months make fun additions to your social media pages as a way to observe the passage of autumn

Coloring is a been noted to act as a stress reliever – this is the answer to your holiday stress relief!

These designs have the illusion of 3D that makes your coloring really pop!"
All About Autumn Coloring Book Double Pack by Various Authors Published by H.R. Wallace Publishing
"This double pack includes All About Autumn Coloring Book Volume 1 and All About Autumn Coloring Book Volume 2. So, that means that you get all of the autumnal illustrations from each of those volumes all in one coloring book. With 60 designs that celebrate the autumn season, colorists of all ages will delight in adding their own touch of color to each of the illustrations found in this coloring book.
So, gather together your favorite art supplies and get ready for hours of fun as you color each of these beautifully detailed autumnal designs. The back of each coloring page has been left blank. That makes these illustrations perfect for displaying after you've finished coloring them in."
Autumn Garden: Coloring Book by De-Ann Black
"Autumn Garden is a coloring book by author and artist De-ann Black. The book contains 30 of her original illustrations, patterns and designs, hand drawn in pen and ink. The flower theme of this coloring book is based on several of her books including The Beemaster's Cottage. The pictures are printed on one side of each page. Further details about De-ann's art, illustrations, fabric designs and books are available from her website. Other coloring books by De-ann: Flower Hunter, Sea Dream, Flower Bee and Bee Garden coloring book."
Autumn Splendor Adult Coloring Book with Bonus Music CD by Newborne Media
"Color With Music is a Brand New Adult Coloring Book Series. It's the first coloring book for adults to Include a Bonus CD to Enhance the Calming and Relaxing Experience of Coloring. Each Color With Music adult coloring book includes:
48 SINGLE SIDED DETAILED IMAGES: Designs and images inspired by the Autumn season printed on high quality paper – perfect for coloring pencils, markers or crayons
A MUSIC CD: With beautiful music artfully mixed with the sounds of nature to aid in creating the perfect coloring experience
A PROTECTIVE INLAY CARD: Acts as a tablet for a smooth coloring surface while protecting the sheets beneath from any marks or indents
TOP-BOUND BINDING: Makes our coloring books perfect for right handed and left handed artists
DETACHABLE PAGES: Perfect for easy framing and sharing 
The Color With Music Adult Colouring Book series is the perfect adult coloring book set. With an included relaxation cd you can listen to soothing and calming music while you color in the detailed images.
Sometimes referred to as grown up coloring books, or coloring books for grownups the Color With Music series of adult coloring books stress relieving patterns has a number of different themed coloring books in the collection. Be sure to check out the entire Color With Music collection of coloring books for adults. Don't forget to bring your Color With Music book with you when you travel. Each book is 8 x 8 so it will fit perfectly in your bag making it the perfect adult coloring book travel size. Help us make the Color With Music series one of the adult coloring book best sellers."
Creative Haven Owls Coloring Book by Dover **BEST SELLER**
"More than 30 fanciful full-page illustrations depict the wisest of birds in lush, tapestry-like settings. Covered with flowers, paisleys, and other fun-to-color patterns, these adorable owls are posed against vivid backgrounds brimming with intricate designs. Pages are perforated and printed on one side only for easy removal and display. Specially designed for experienced colorists, Owls and other Creative Haven® adult coloring books offer an escape to a world of inspiration and artistic fulfillment. Each title is also an effective and fun-filled way to relax and reduce stress."


Forest Animals Designs Coloring Book by Coloring Therapist 
"What makes coloring one of the best relaxation tools around? Is it because it is almost effortless – requiring skills you've already mastered as an adult? Is it because it's a means of self-expression and no set rules exist to stop you from picking your preferred colors? We'd say it's both! So if you are stressed, grab a copy of this coloring book, find a corner and color!"
All About Autumn Coloring Book (Volume 1) by Various Author's H.R. Wallace Pumglishing
"With 30 designs that celebrate the autumn season, colorists of all ages will delight in adding their own touch of color to each of the illustrations found in this coloring book. So, gather together your favorite art supplies and get ready for hours of fun as you color each of these beautifully detailed autumnal designs. The back of each coloring page has been left blank. That makes these illustrations perfect for displaying after you've finished coloring them in."
Coloring for the Seasons is always fun and gets you into the mood for each and every season and Holiday! Stay tuned for more coloring fun and as always….. Color a Fun Day! 😉